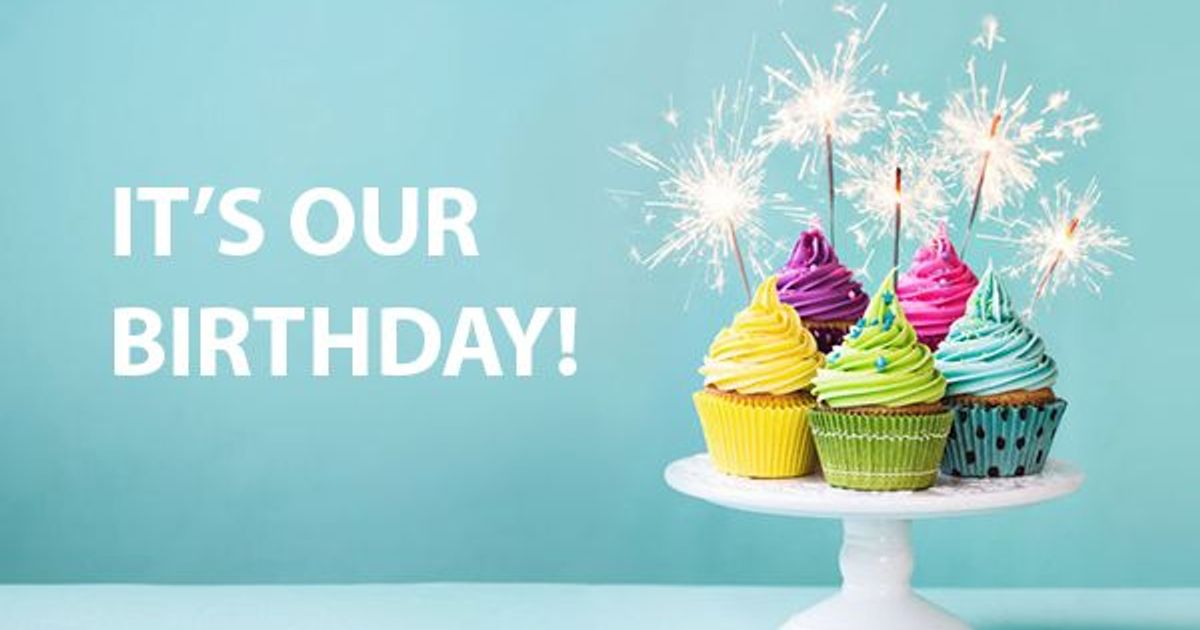 Dance Nation Radio turns 1 this week!
This week marks the first anniversary of Dance Nation Radio and we are delighted to announce that we have seen significant improvements since launching our stream last year - 26th March 2022 at 00:08 hrs to be exact! What started as a 'test broadcast' ended up becoming our full-time live stream and has remained active ever since, save for IT upgrades and some minor studio changes.
During this time we have managed to grow our audience and would like to thank all of our listeners for their continued support. According to the latest report (dated 04 April 2023), we've had over 5,400 listeners, across 117 different countries. This is incredible and really motivates us to keep doing what we love to do!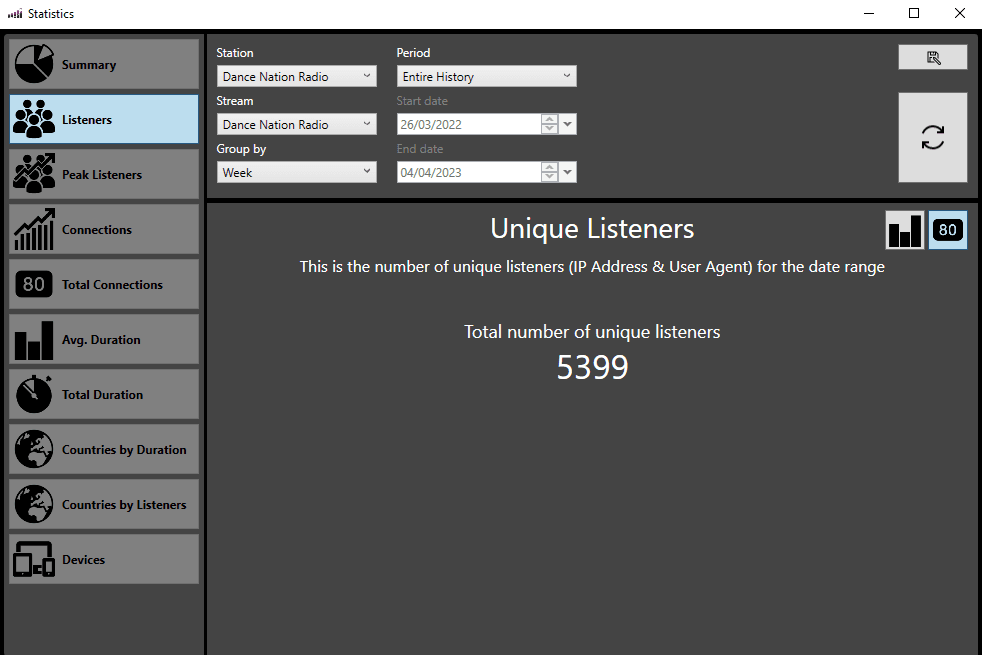 Believe it or not, Dance Nation Radio started out (conceptually) over twenty years ago according to station manager and programme controller, Steve Grant.. 'I had been involved with radio briefly back in the late 90's in Ireland. I had learned so much, notably at a point in radio history when there was a massive shift in how broadcasting was being delivered. In the time since, I have become more interested in what happens behind the scenes, particularly with regard to playout automation and emerging technologies'.
Grant notes also that in 2002, following the closure of Waterford-based broadcaster ABCPower104 the previous year, he had developed plans to launch PURE FM to fill the void.. 'With transmission equipment purchased and a studio built, the idea was later scuppered as we knew we were at a disadvantage being an unlicensed operator and would not welcome any unwanted attention it would garner and the ultimate fate it would face, just like our predecessors in the region. I also had close relations with individuals within the legitimate radio industry at that time and the potential for conflict was too high. I didn't want to risk that.'
When asked if an FM presence was considered 20 years later, Grant tells me it was an easy decision to refrain.. 'Unfortunately I witnessed some fantastic stations disappear over the years, at home and abroad, due to legislative and regulatory issues, failed license bids, mismanagement, etc.' Launching Dance Nation Radio towards an online audience was an easy decision, especially given the technology at our disposal in today's environment.'
Grant explains that the station does not focus on live output as much as its FM counterparts. Utilising intelligent automation coupled with demand-led services such as 'listen back' (provided by Mixcloud), as well as a finely curated Spotify playlist, Dance Nation Radio is aimed at electronic dance music listeners who 'know what they like'..
'We use smart playlisting to deliver online radio that serves to satisfy dance music fans who appreciate the classics as well as paving the way for future hits by providing a platform for new & emerging artists. It's a fine balance of 'old meets new' and we aim to perfect it'. In a nonchalant yet uncondescending manner Grant adds, ' If you're looking for sports updates, traffic & travel, celebrity gossip and Tik-Tok analysis to accompany you on your daily commute then we're not for you'.
Dance Nation Radio is solely an online-based entity and does not broadcast locally in Ireland. The station employs the professional services of Broadcast Radio Ltd who offer a superior range of products and services for broadcasters. 'We didn't want to exist as a pop-up, here today gone tomorrow' Grant explains. 'I wanted to ensure we gave it 'as good a go as possible' and wanted to get it right from the start. Broadcast Radio look after our stream as well as playing host to our website & app. With Myriad as our playout system we really are perfectly poised to be the best we can be'.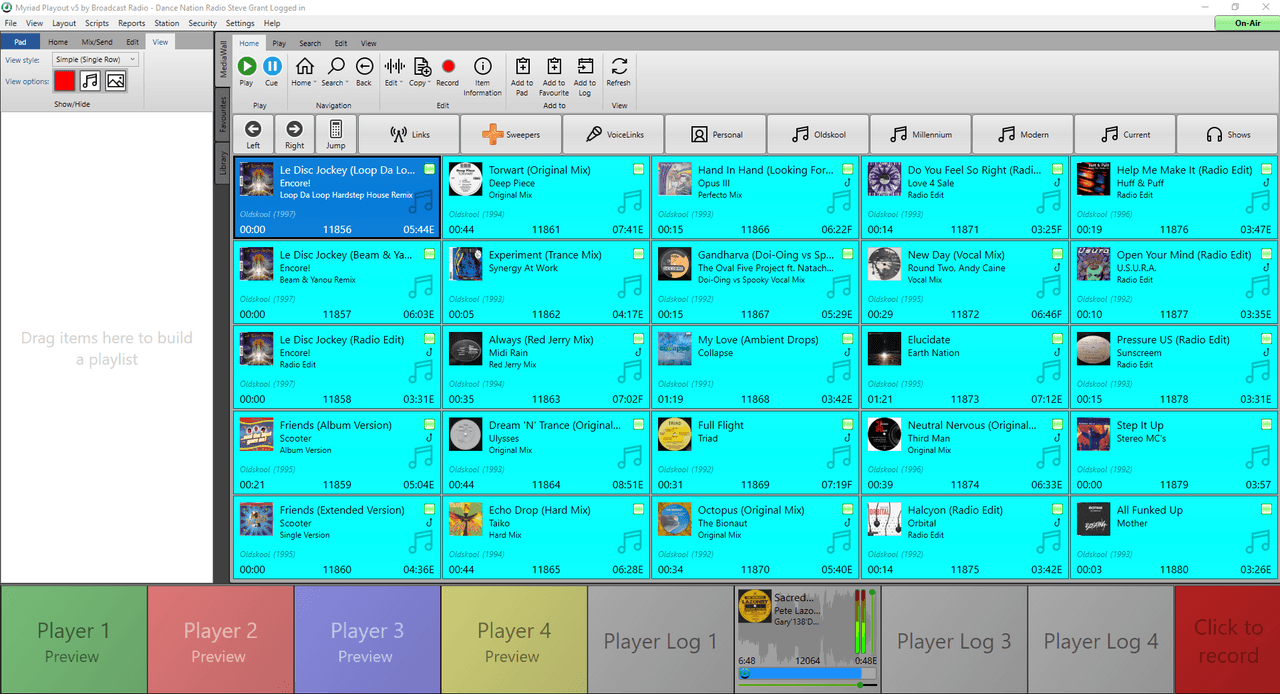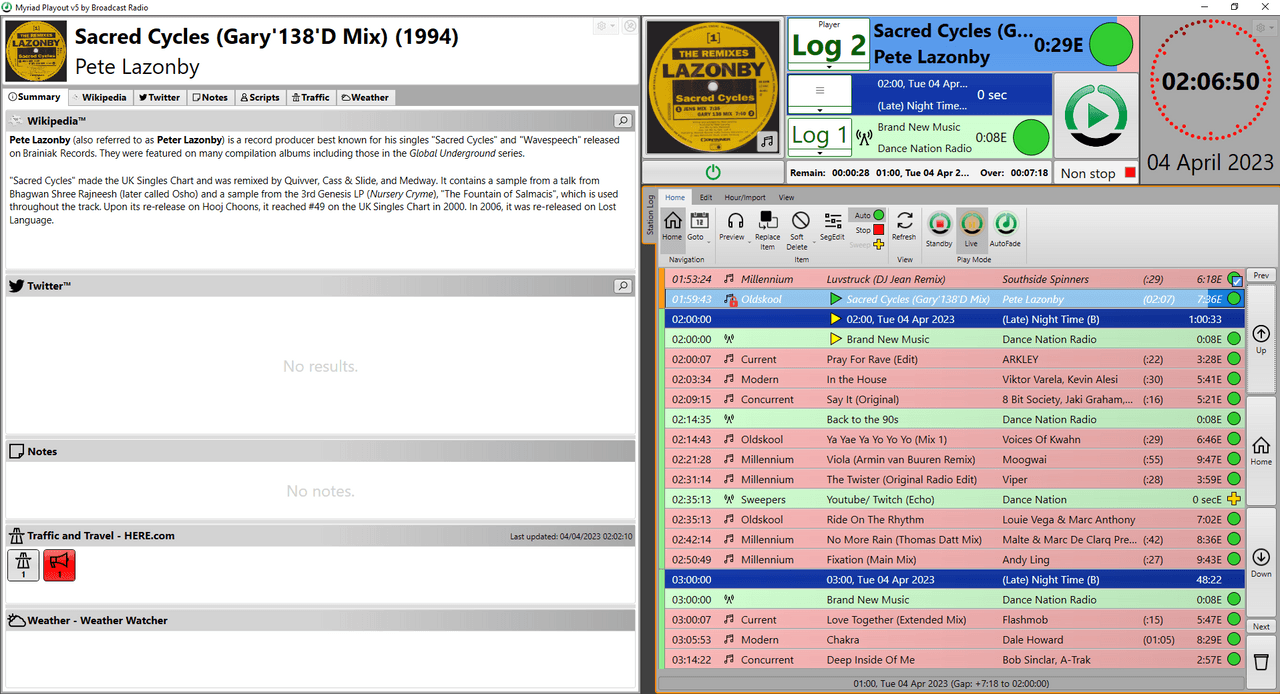 Asked why it took two decades to launch the station Grant informs us that he'd spent a considerable amount of this time abroad and that due to work demands and family commitments, it took longer than expected to get up & running. 'I had spent over a decade in Australia and returned to Ireland at the end of 2019. I arrived home with a view to launching within six months. Unfortunately world events had other plans!'
Grant explains that with the situation which had transpired globally in 2020, launching then in the manner in which he did in 2022 was 'next to impossible'. 'It was incredibly difficult to get a builder, carpenter, electrician, etc. In the end I managed most of the studio build myself, including wiring. Thankfully online procurement wasn't hindered and the good folks at Thomann were able to fulfil most of the studio needs.
However, waiting on the desk build proved to be difficult as it was built in Dublin and assembled on-site in Waterford, almost a year later! 'Due to travel restrictions the joiner was unable to make it down for fitting for quite some time. In any case it gave me more time to revise the drawings and the desk layout had changed many times prior to completion!'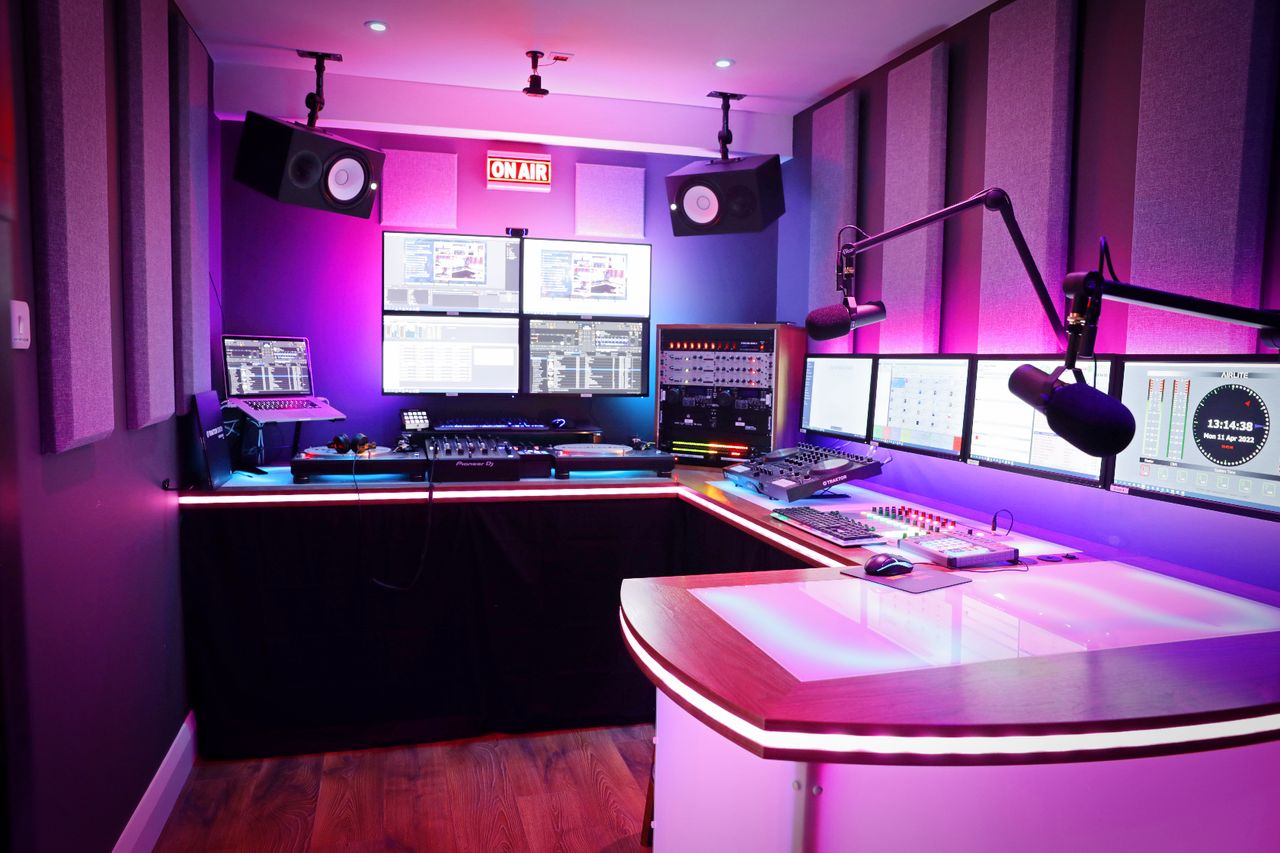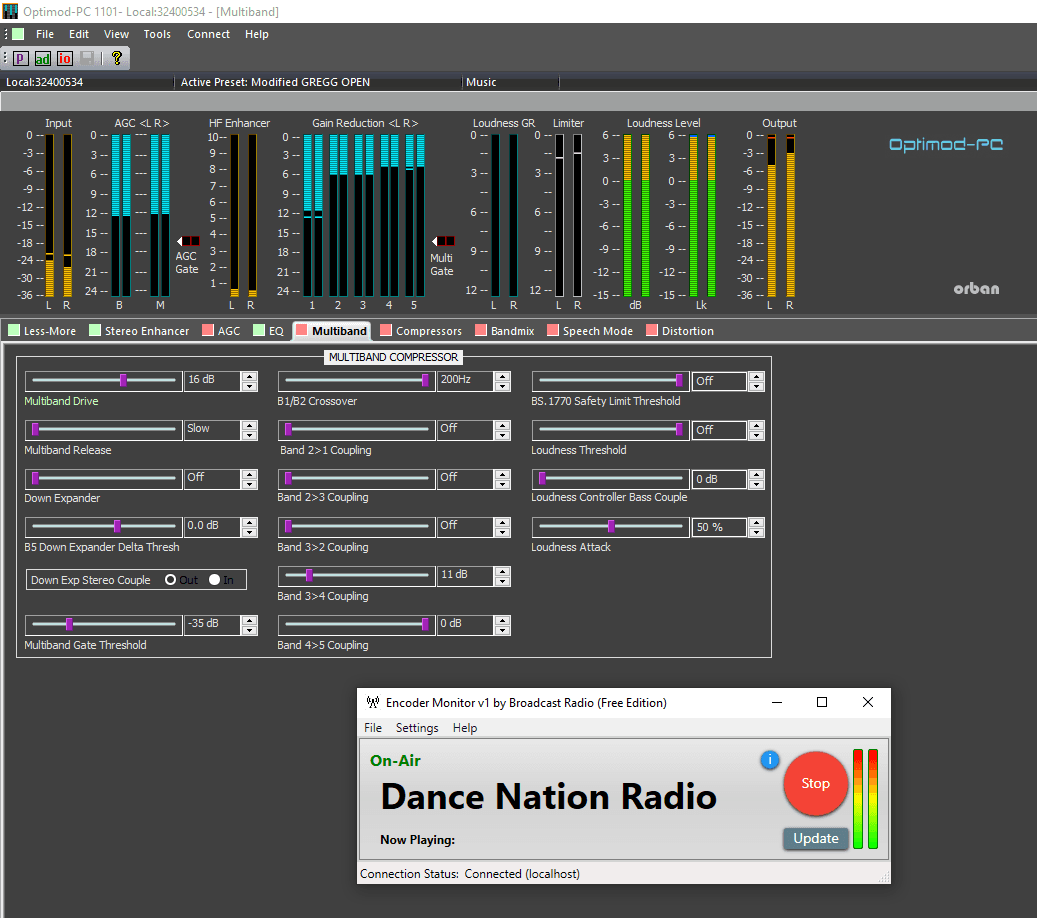 Given that its output consists chiefly of automated playlisting coupled with some regular guest shows that are beamed in remotely, Dance Nation Radio has an incredibly modern studio and professional on-air presence to boot. 'Considering we're an online station we are not geographically bound, in fact, no station is anymore thanks to advances in broadcast technology. 'Technically speaking we could exist without a studio but that room is a dream and a joy in itself!'
The studio build will be covered as a separate upcoming feature in the near future.
It's important to note also that Dance Nation Radio is not a solo venture according to Grant..'I had reached out to people I hadn't heard from in many years. Interestingly John Power also seemed to be active again so I got in touch and asked if he'd be interested in syndicating his new show based at Select Radio in London. I hadn't spoken with John since Homelands Ireland back in 2000...but that's another story! John's show is syndicated across Australia, UK, Ireland & NYC and we are very happy to have him on board since day 1.'
Grant also reached out to Tommy Kelly who was prolific on the Waterford scene back in the 90s. Tommy presents The Monthly Takeover each month and delivers two hours of the juiciest new tracks on the planet (catch the shows on playback via Mixcloud).
You will also hear Darren Woodward who presents The Vinyl Room monthly, alongside Jon Challen who presents XLR8 every Friday night from midnight, amongst many other great shows Follow this link for more details about the playlist structure. Check out dancenationradio.ie for info on shows, presenters & schedules.
Thanks for listening, your ears are appreciated!
Gallery (Studio Build)